Trails and Tribulations
Covers of the 5 GeoTrails produced by the project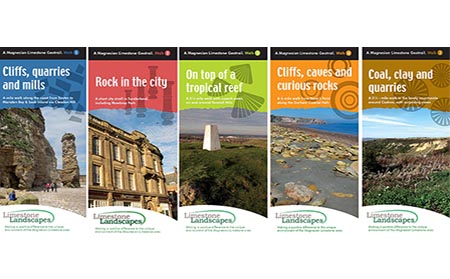 Groundwork North East has created a variety of trails to interpret the geology and the built environment, using a range of techniques and technologies. We have created a sensory rock trail in Mowbray Park, Sunderland for all to appreciate. We are using the trails to signpost visitors to nature reserves and geological wonders of the Limestone Landscapes.
The Trails and Tribulations Project has been working with community groups to research and establish five routes. We have developed trails and leaflets linking key geological sites.
Leaflets
Please download the following walk leaflets in either A3 or A4 size:
Seaham Nose's Point – Coastal Geological Trail
Souter to Marsden Bay – Quarries and their Products trail
Tunstall Hills – Limestone Reef trail
Sunderland City Centre – Rock in the City trail
Coxhoe, Kelloe and Quarrington Hill – Coal Clay and Quarries Trail
Project Area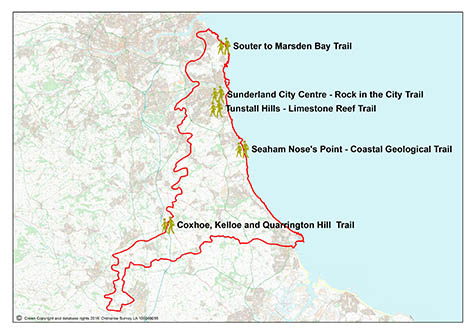 Contact Information
For more information contact Lucy Chapman at Groundwork North East.
Tel: 01207 524 803