Quarries Live!
We have championed the world class geology, economic importance and significance of working quarries through site visits, talks and educational programmes. We installed viewing platforms at four quarries and a fossil hunting bay at Cassop School with information at each location.
This Project has now completed.
The Limestone Landscapes Project installed four viewing platforms at Crime Rigg, Thrislington, Old Quarrington and Coxhoe (Raisby) quarries.
We created a fossil hunting bay at Cassop Primary school, where pupils and visitors can hunt for fossilised fish by cracking open the marl slate which is famous for its fossil contents. We have provided fossil hunting equipment for both children and adults at this site.
We arranged 10 community and 26 school visits to the quarry sites and the Fossil Hunting Bay, including working with the Cassop Environmental Extra Centre to provide day visits for schools that introduced earth sciences and geology. Other visits to the site were also organised through the Village Atlas and Learning through the Outdoor Classroom projects.
The Limestone Landscapes Project has a set of boxes containing the rocks from the area along with examples of the different fossils that can be found. We have used these for events at the quarries and in other locations.
We also worked with Durham Heritage Coast to install and interpret a fossilised tree at Noses Point near Seaham that was originally found in Dawdon Colliery.
Project Area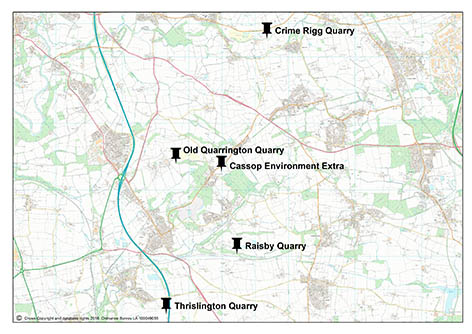 Contact Information
For more information contact Sue Mullinger, Durham County Council.
Tel: 03000 267 142