Prehistoric
Seven Sisters Barrow, Copt Hill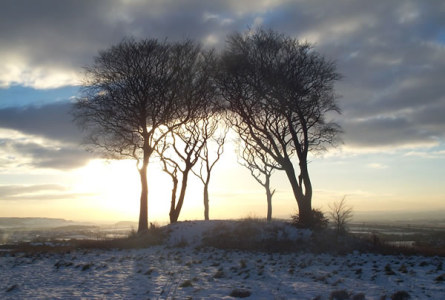 Despite several millennia of human habitation, the area is still characterised by a number of landmark prehistoric structures which were originally placed in prominent positions to dominate or be seen from the surrounding landscape.
Amongst these are burial mounds such as Hastings Hill and the Seven Sisters Barrow at Copt Hill. This latter barrow is perhaps the oldest visible human made structure in the Limestone Landscapes area and is still a prominent landscape feature overlooking Houghton-le-Spring with its crown of trees.
Other major prehistoric landscape features includes Shackleton Beacon Iron-Age hill fort on the western edge of Limestone Landscapes at Redworth. Although largely obscured by woodland growth of the last 150 years or so, this is a significant construction of several encircling banks and ditches all enclosing a central platform.
During this period, a significant transformation in the nature of the landscape also occurred from one that was wild and frequented by groups of hunter-gatherers, to one that was increasingly tamed by early farmers.