Industrial Revolution
Abandoned Limekiln, Hawthorn Burn – CR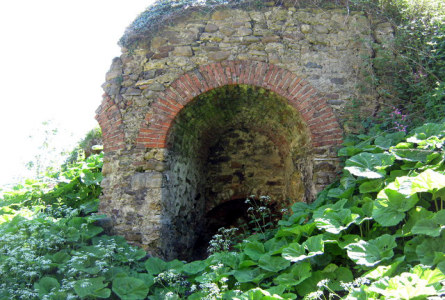 The 18th to the 19th century was one of radical and deep-rooted change: it saw the transition from an agricultural economy to an industrial one; the shift from a primarily rural population to an urban one; the move from horsepower to first water, then steam; and finally internal combustion.
The quarrying of limestone expanded rapidly in the late 18th century, being used early on for agriculture and building lime, then for steel making and pharmaceuticals, and latterly as a construction aggregate. A number of disused limekilns still exist with the most notable being the large industrial sized kilns at Marsden, although a number of one and two pot kilns are scattered across the Magnesian Limestone.
It was coal however that had by far the biggest impact on the whole area. Its rise and subsequent domination of the Limestone Landscapes's area began in the 1830's with the early colliers' pioneering techniques to deal with the depth of coal seams underlying the Magnesian Limestone. The mines used considerable areas of land, with prominent spoil heaps, spilling on to the beaches at the coast. Villages and towns grew rapidly alongside the collieries and the need for efficient bulk transport to the coast at Sunderland, Hartlepool and later Seaham Harbour provided a huge impetus for tram lines, steam hauled inclines and railways.
Many larger houses were significantly re-built reflecting the increased wealth of not only the traditional land-owning families, much of whose wealth came from coal mining, but also new wealth through associated trade and manufacturing. Surviving significant country houses include Windlestone and Elemore Halls.
Most of the distinctive colliery artefacts, such as winding gear, have been removed however a few well-preserved examples of steam engines that provided power to coal mines, have survived but one of the most dramatic and best preserved is at Haswell Plough, where a huge beam engine and construction based on the deep mining technology developed in the Cornish tin mining industry was built circa 1830.
The massive increase in population, associated housing and the increasing demand for water by industry led to a series of massive infrastructure projects to ensure that demand from the new urban centres of the region was provided for. Most of the drinking water for the area was pumped up from below the Magnesian Limestone. Several important pumping stations built gothic style survive, including Grade II listed Ryhope pumping station in Tyne and Wear, which still retains two 100-horsepower beam engines.