Field Boundary Restoration
The Durham Hedgerow Partnership, South Tyneside Council and Hartlepool Borough Council have restored field boundaries such as hedgerows and dry stone walls. These features form an important part of the area's landscape and heritage. They also provide important habitat and corridors for wildlife to use.
This Project is now completed.
Walling
South Tyneside Council worked with an artisan waller to rebuild and restore over 200m of key sections of the unusual and historic part-dry stone wall, part-lime mortared wall, which surrounds the windmill at Cleadon Hills. As part of this project we ran Heritage skills taster days in dry stone walling and lime pointing.
Hartlepool Borough Council have restored sections of the lime pointed wall around the Hart Primary School next to the playing fields. One section of 11 metres needed to be entirely rebuilt.
Grants for restoring hedgerows
The Durham Hedgerow Partnership have given grants of 75% of costs to local farmers and landowners in:
Low Pittington
Hetton-le-Hole
Dalton-le-Dale
Castle Eden
Sunderland
Littletown
Heselden
Redworth.
This has been with assistance from:
County Durham Community Foundation
Durham County Council
Sunderland City Council
Darlington Borough Council
By the end of May 2013 they had planted or restored just under 4km of hedgerow, laid 87m of hedge and coppiced a further 35m.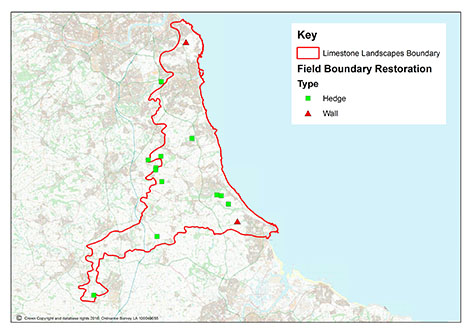 Contact information
For more information contact Sue Mullinger at Durham County Council:
Tel: 03000 267 142
Email: landscape@durham.gov.uk
Durham Hedgerow Partnership
Landscape Section
Durham County Council
County Hall
Durham
DH1 5UQ