Farmland Bird Initiative
The RSPB lead a walk looking at Farmland birds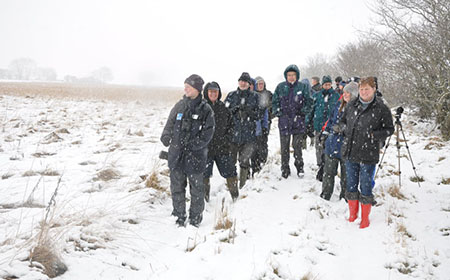 Durham Biodiversity Partnership and the Royal Society for the Protection of Birds (RSPB) have educated farmers, landowners and conservationists on methods of farming whilst taking into consideration farmland birds on the limestone escarpment. The have provided training, integrating farming and biodiversity conservation into local community life, exploring links between past and future land use relating to people and wildlife.
This Project has now completed
The Farmland Birds Initiative held a training session at a farm near Mainsforth on 23rd February 2013.
A second session was held in Bishop Middleham on 7th June 2013.
40 participants were involved with the two events.
Contact Details
For further information please contact Helen Ryde at Durham Biodiversity Partnership
Tel: 0191 584 3112