Community Archaeology
Durham County Council Archaeology section has enabled local communities to discover more about their heritage through taking part in archaeological projects and learning techniques of excavation and survey. Community excavations led by professional archaeologists have evaluated and dated sites near Great Chilton and Seaham Hall improving knowledge and understanding of the historic environment.
This Project has now completed.
Great Chilton
Funded by 4 Together AAP we carried out a geophysical survey and excavations at Great Chilton, south of Ferryhill. Working with Archaeological Services, Durham University and local volunteers in 2012 we excavated a roundhouse and some enclosure ditches of an Iron Age settlement.
In 2013 we returned for a second season of digs at Great Chilton, excavating a roundhouse to the north of the previous sites. In both seasons of digs local people and schoolchildren got involved in the digs. There were presentations of the finds with the local History Society and also in school assemblies.
Seaham Hall
At Seaham in 2013 we worked with Northern Archaeological Associates to investigate Anglo-Saxon St Mary's church and surroundings at Seaham. We were hoping to discover a road and settlement adjacent to the church. Neither of these was found, however we did discover the extent of the Anglo-Saxon cemetery. Samples were taken from the teeth of the remains discovered, and following Strontium/Oxygen stable isotope analysis we were able to deduce that none of those buried were from the local area. All were at least from 50Km away and most further afield from south-east Scotland, then part of the Kingdom of Northumbria, North-West Scotland and possibly Norway or Northern Germany.
Both the digs that took place were written up as reports and published in Durham Archaeology magazine. There were presentations on the digs at Durham Archaeology Day in both 2013 and 2014.
Project Area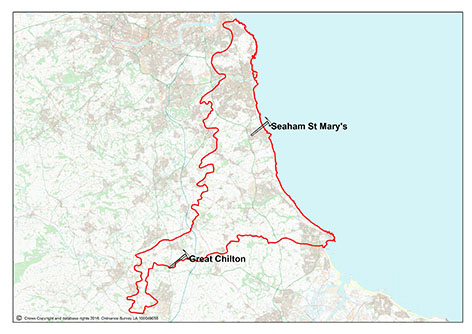 Contact Information
For more information contact David Mason of Durham County Council Archaeology Section.
Tel: 03000 267 012
Email: archaeology@durham.gov.uk